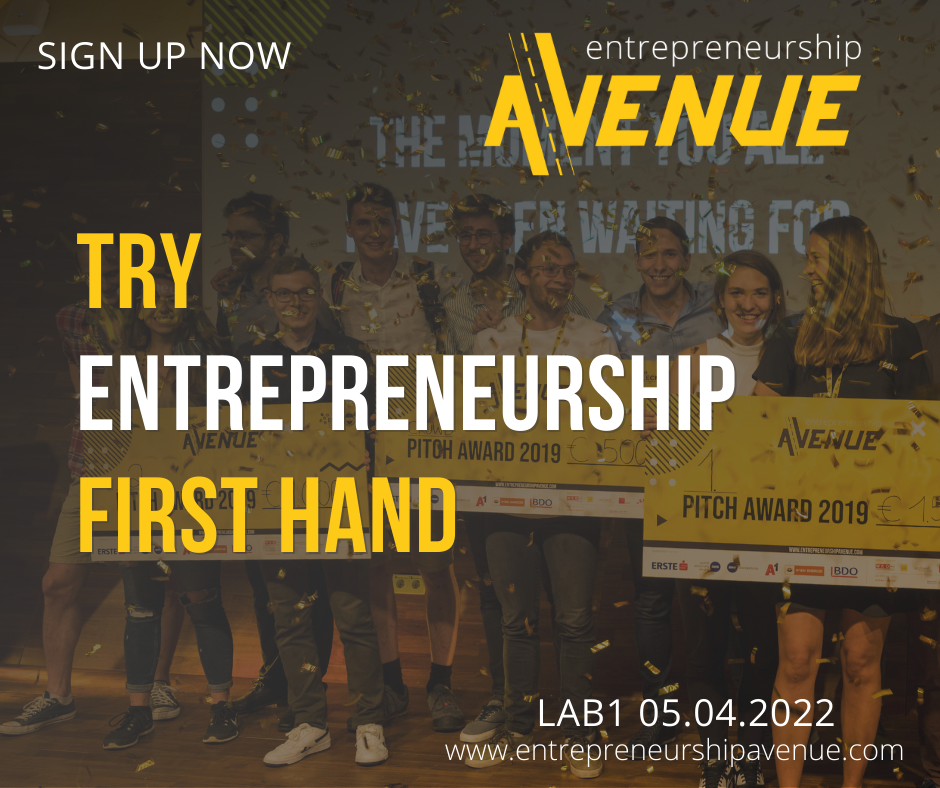 Online Lab Series by Entrepreneurship Avenue
Start your entrepreneurial journey with our workshop series, the Labs.  In four online workshops, you will learn and apply the basic skills to turn your idea into a viable business that impresses investors and the audience.
Why you should join:
Develop your entrepreneurial skills and startup network

Learn and apply the fundamentals of starting up

Get your own mentor and learn from their valuable expertise and experience

Get your own pitch trainer and learn how to get investors on board

Meet like-minded change-makers and entrepreneurs

Network with students from various different backgrounds
PROGRAM |
KICK-OFF: MARCH 22nd, 2022, WU WIEN & STREAM
KiCK-OFF Event: Be inspired by keynote speakers and panelists and connect with fellow participants and entrepreneurs.
LAB 1: APRIL 5th, 2022, ONLINE EVENT
Fundamentals: Understand the basics of starting your own business idea: it's all about the problem you want to solve.
LAB 2: APRIL 26th, 2022, ONLINE EVENT
MENTORING: Refine your business model with the support of an experienced mentor.
LAB 3: MAY 10th, 2022, ONLINE EVENT
PITCH TRAINING: It's all about the perfect pitch. Learn to present your business and get investors on board with the help of pitch trainers.
LAB 4: MAY 24th, 2022, ONLINE EVENT
DEMO DAY: Present your final pitch to an experienced jury and qualify for the final Pitch Award at the Conference.
CONFERENCE: MAY 31st, 2022, WU WIEN & STREAM
CONFERENCE: Reconnect at the grande finale and wow the audience and jury with your final pitch for a chance to win exciting prizes. Get inspired by keynotes, the startup fair, partner workshops, the partner fair or land a speed interview during the job chat.
—————————————————
—————————————————
EVENT WEBSITE |
www.entrepreneurshipavenue.com
©2022 by Entrepreneurship Avenue